£475 + VAT per school , this price is for a series of 6 facilitated workshops, different people in your school/central MAT team can attend the sessions but limited to a maximum of 2 per session per school/MAT.
Do you want to understand how to confidently lead the strategy for diversity, equity and inclusion in your school?
Join us for a series of interactive webinars curated and hosted by Hannah Wilson, Co-Founder and Director Diverse Educators, and a former Headteacher.
Each webinar will be an opportunity to listen to two contrasting speakers who will share their experience and expertise working in the school system to drive this agenda forward. After each input you will be able to share your reflections and ask the speakers specific questions.
At the end of each webinar there will be an opportunity to discuss your individual and organisational next steps with the other school leaders in the webinar. As the series progresses the participants will be able to share their emerging best practice with each other.
You do not need to do this work alone, join a cohort of school leaders who care about embedding diversity, equity and inclusion in their schools in a meaningful and sustainable way.
To allow for maximum interactivity the number of schools participating in this virtual programme is limited to 15 per cohort and for 2 people to participate from each school/central MAT team
Leading and embedding a Diversity and Inclusion strategy in your school
Programme Overview
Culture and Ethos
Wednesday 3rd November 2021 • 1.30-3.30pm - Shaun Dellenty • Hannah Wilson
Join Shaun Dellenty, a Diversity in Inclusion in Schools Consultant and Hannah Wilson, Director of Diverse Educators, to consider how we can work with our school and wider communities to create a sense of belonging for all.
https://www.linkedin.com/in/shaundellenty/
https://www.linkedin.com/in/hannah-wilson-fcct-frsa-60951456/
____________________________________________________________________________________________
Curriculum 1: Anti-Racism
Wednesday 1st December 2021 • 1.30-3.30pm - Allana Gay • Dwain Brandy
Join Allana Gay, serving Headteacher and Co-Founder of #BAMEed and Dwain Brandy, Assistant Principal and Equality and Diversity Champion, for this webinar to look at how we can diversify our curriculum and embed an anti-racist approach to our pedagogy.
https://www.linkedin.com/in/allana-gay-7a734173/
https://www.linkedin.com/in/dwain-brandy/
__________________________________________________________________________________________
Leadership and Governance
Wednesday 2nd February 2022 • 1.30-3.30pm - Raj Unsworth • Yinka Ewuola
Join Raj Unsworth and Yinka Ewuola, Chairs of Governors from different parts of the country, to understand the role of governing bodies in embedding the diversity, equity and inclusion strategy in your school and MAT.
https://www.linkedin.com/in/raj-unsworth-260a7548/
https://www.linkedin.com/in/yinka-ewuola/
_________________________________________________________________________________________
Recruitment and People Development
Wednesday 16th March 2022 • 1.30-3.30pm - Adrian McLean • Patrick Ottley-O'Connor
Join Patrick Ottley-O'Connor, interim Executive Headteacher and an inclusive ally, and Adrian McLean, a former Headteacher and Vice Chair of Governors, for this webinar to look at how we can diversify our recruitment processes and talent management strategies.
https://www.linkedin.com/in/patrick-ottley-o-connor-75113342/
https://www.linkedin.com/in/adrian-mclean-98990339/
____________________________________________________________________________________________
Self, School and Society
Wednesday 11th May 2022 • 1.30-3.30pm - Andrew Moffat • Seb Chapleau
Join Andrew Moffat, Personal Development lead for Excelsior MAT and founder of the 'No Outsiders' programme, and Dr Seb Chapleau, former Headteacher and community organiser to discuss the wider social issues shaping the diversity, equity and inclusion strategy in schools including strategies for engaging parents and carers.
https://www.linkedin.com/in/andrew-moffat-078537196/
https://www.linkedin.com/in/sebchapleau/
_____________________________________________________________________________________________
Curriculum 2: Diversity
Wednesday 6th July 2022 • 1.30-3.30pm - Lorraine Hughes • Serdar Ferit
Join Lorraine Hughes, Director of Standards at the Chiltern Learning Trust, as she shares their journey this academic year in developing an inclusive curriculum across their MAT. Alongside Serdar Ferit, Co-Founder of Lyfta as he showcases the digital platform that brings human stories to life via virtual reality to transport your schools around the world.
https://www.chilternlearningtrust.org/about-us/the-central-services-team.php
https://www.linkedin.com/in/serdarferit/
@SerdarFerit _____________________________________________________________________________________________
*Alternative speakers may present if circumstances change throughout the year.
Click here for a flyer
Each ticket will give admission for two attendees from a single school. Only the person making the booking will receive the confirmation email and the link to access this event. This link may then be used by a maximum of two people in your school for each session.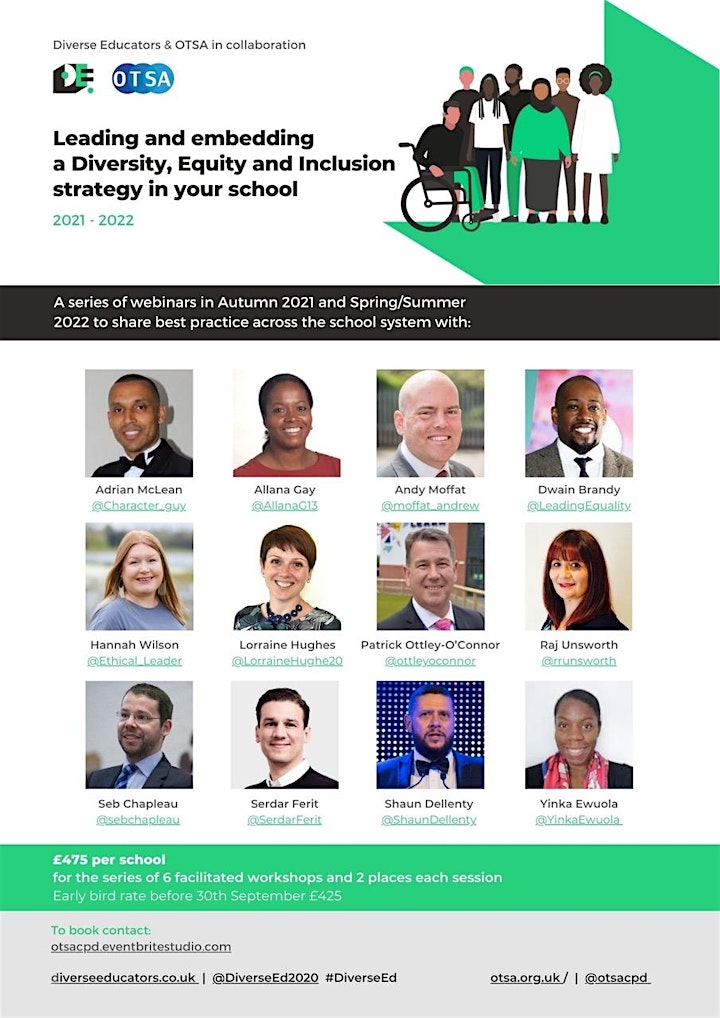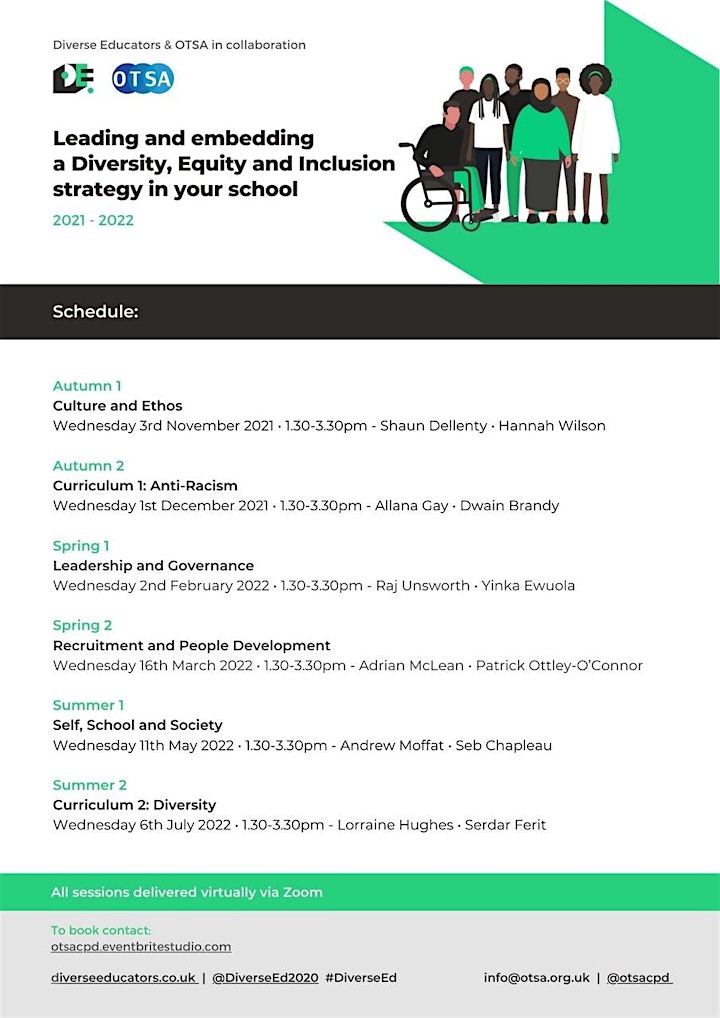 Accessing the online event
Following registration for this event you will receive an email from Eventbrite confirming your place. If you did not create an account at the time of booking or someone else booked on your behalf, you will need to create an Eventbrite account. Open your booking confirmation email, select 'Claim Your Order' and then choose a password. Make a note of your email address that was used to make the booking and your new password – you will need these to access the Eventbrite page containing the link to the event.
A minimum of 48 hours before the event begins you will receive another email from Eventbrite containing a direct link to the event and to the Eventbrite Online Event page.
Please test the link the day before the event to make sure you can connect. If you need help please email info@otsa.org.uk or call 01235 856500 in good time before the event begins. We will be unable to help during the event itself. Please note, if you unsubscribe from Eventbrite before the event takes place you will not receive any further emails from Eventbrite and therefore will not receive the email with the link to the event.
We do not provide refunds if you are unable to access the event due to technical issues that are beyond our control.
Participation in the online event
Our online events aim to be interactive and you will be expected to have your camera and microphone on, although your microphone should be muted. We may use 'Raised Hands', 'Reactions', 'Chat', 'Polls', shared whiteboards and shared screens during the session. We may also use 'Breakout Rooms' to allow you to work in a smaller group.
Cost
£475 + VAT per school
Schools should be able to recover VAT from HMRC so the cost to your school should be the pre-VAT figure. If in doubt, please check with your finance manager.
Payment
Payment is required at the time of booking by credit card, debit card or Paypal. A VAT invoice will be sent to you automatically by email.
Refunds
No refunds will be given with less than 30 days notice.
In the event of a refund request, please note that the Eventbrite booking fee of 6.5% plus 0.49p per ticket is not refundable.
To keep our event fees as low as possible, we are not able to issue manual invoices for later payment by cheque or bank transfer and we are not able to reserve places without payment.
We strongly recommend that you take out 'event ticket insurance' which may cover the cost of your fee should you be unable to attend the event.