Youth Mental Health First Aid (MHFA) is for everyone who works with, lives with or supports young people aged 8-18. You will be taught the skills and confidence to spot the signs of mental health issues in a young person, offer first aid and guide them towards the support they need. In doing so, you can speed up a young person's recovery and stop a mental health issue from getting worse.
The course will not teach you to be a therapist, but will teach you to listen, reassure and respond, even in a crisis - and even potentially stop a crisis from happening.
But more than that, we aim to give you the information and skills to look after your own mental health so that you can set an example for young people. By giving you the tools to have these conversations, we hope to empower you to create a mentally healthy, supportive environment in your family, school, peer group or community.
Let's create a future where mental health is treated as a normal part of life, in the same way as physical health. A future where every young person has access to support if they need it.
For more information - https://mhfaengland.org/individuals/youth/
Training Objectives
This course qualifies you as a Youth Mental Health First Aider, giving you:
An in-depth understanding of young people's mental health and factors that affect wellbeing
Practical skills to spot the triggers and signs of mental health issues
Confidence to reassure and support a young person in distress
Enhanced interpersonal skills such as non-judgemental listening
Knowledge to help a young person recover their health by guiding them to further support – whether that's through self-help sites, their place of learning, the NHS, or a mix – engaging with parents, carers and external agencies where appropriate
Ability to support a young person with a long term mental health issue or disability to thrive
Tools to look after your own mental wellbeing
Learning Outcomes
To become more confident in understanding and helping young people experiencing mental health difficulties
Your instructors
Matthew Barnard is an accredited (UKCP) Psychodynamic Psychotherapist, with ten years experience of working with adolescents in mental health. Previously Matthew has worked in the NHS and a university counselling service. Currently, he works as a counsellor in two schools in Oxfordshire and is a trainee Family and Systemic Therapist at the Tavistock. He is also a qualified Youth and Adult Mental Health First Aid Facilitator for MHFA England.
Sally Price started working in schools as an MFL teacher 20 years ago and has led on aspects of staff induction and ITT throughout her career. In her current role with the SCITT, Sally works closely with members of the central team and partnership colleagues to deliver bespoke coaching and wellbeing provision for Associate Teachers during their ITT and NQT years. Sally is a Youth and Adult Mental Health First Aid Instructor and delivers on-line and face-to-face training to trainees and experienced school staff locally and nationally. She is also a trained Wellbeing Coach (British School of Coaching, endorsed by the Institute of Leadership and Management) and speaks at national events on wellbeing and mental health in ITT and education. Sally had her first book published, "Mental Well-being and Self Care" which is one of Critical Publishing's essential guides for Early Career Teachers – you can listen to the podcast of Sally discussing her book on Oxfordshire Teacher Training website's BLOG
What to expect
The week-long course will comprise 4 live virtual sessions and 4 guided individual learning tasks set. The timetable shows the timings. Attendance and completion of all learning is required for certification.
Once you have booked your place, you will be enrolled with MHFA England* and be able to then begin the pre-course learning prior to live session 1.
*See note below in refunds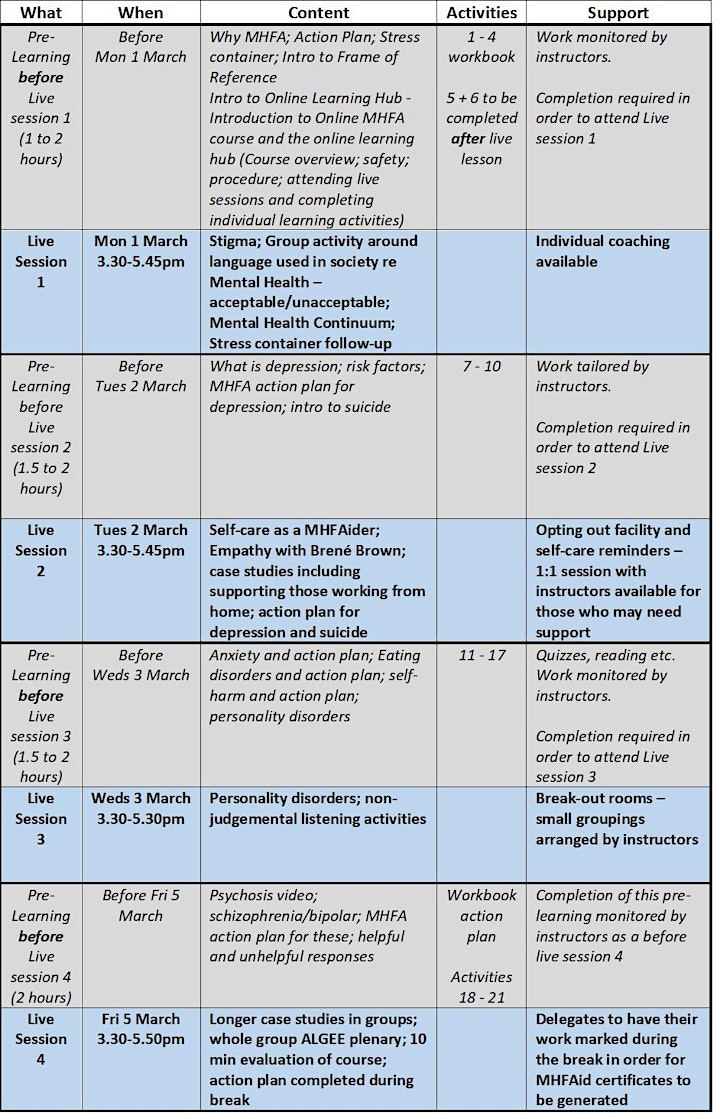 Accessing the online event
Following registration for this event you will receive an email from Eventbrite confirming your place.
A minimum of 48 hours before the commencement of the programme, you will receive an email from the OTSA CPD team containing a link to the online event. This link must not be shared with other people.
Please test the link the day before the event to make sure you can connect. If you need help please email info@otsa.org.uk or call 01235 856500 in good time before the event begins. We will be unable to help during the event itself.
We do not provide refunds if you are unable to access the event due to technical issues that are beyond our control.
Participation in the online event
Our online events aim to be interactive and you will be expected to have your camera and microphone on, although your microphone should be muted. We may use 'Raised Hands', 'Reactions', 'Chat', 'Polls', shared whiteboards and shared screens during the session. We may also use 'Breakout Rooms' to allow you to work in a smaller group.
Cost includes VAT which may be recovered by schools
£325 + VAT for 4 live virtual twilight sessions and 4 guided individual learning tasks
The event cost is inclusive of applicable VAT. Schools should be able to recover VAT from HMRC so the cost to your school should be the pre-VAT figure. If in doubt, please check with your finance manager.
Payment
Payment is required at the time of booking by credit card, debit card or Paypal. A VAT invoice will be sent to you automatically by email.
Refunds
In the event of a refund request, please note that the Eventbrite booking fee of 6.5% plus 0.49p per ticket is not refundable. We will be unable to refund the MHFA registration fee of £25 after the booking confirmation stage.
To keep our event fees as low as possible, we are not able to issue manual invoices for later payment by cheque or bank transfer and we are not able to reserve places without payment.